"CEPA GALLERY: A DIRECTOR'S HISTORY OF AN ARTIST SPACE AT THIRTY"
Interviews with CEPA's Directors
Light Work, Contact Sheet #131 www.lightwork.org
(Adobe PDF 24MB)




Carl Chiarenza: Internal Landscapes, Photo Review, V. 28, No. 4, 2009




"Tom Persinger: The Genesis of F295," Photo Ed, Spring, 2009




FREE FOR ALL
Eight artists give the online visitor their artists' books.



Untitled 253, 1994. 36 x 44 inches. Gelatin silver print.

Transmutation: Photographic Works by Carl Chiarenza


Curated by Buffalo-based artist and photography historian Robert Hirsch



Anderson Gallery
University at Buffalo One Martha Jackson Place
Buffalo, NY 14214

November 17, 2012 - March 17, 2013






Transmutation: Photographic Works by Carl Chiarenza will chronicle the evolution of the artist's photography, exploring how his tightly framed, documentary-style images from the 1960s and 1970s present a vocabulary of abstraction that would be further developed in his ongoing series of photographed collages, started in the 1979, constructed from scrap materials. The exhibition will also chart Chiarenza's move from working primarily with single photographs to the production of sequential images in order to expand on concepts of photographic time and space.

On Monday, November 12, 6:30 to 8:00 PM Carl Chiarenza will lecture about his work as part of the University of Buffalo's Department of Visual Studies Speaker Series in the Center for the Arts Screening Room.

UB Anderson Gallery is located at One Martha Jackson Place near Englewood and Kenmore Avenues.

Hours: Wednesday through Saturday, 11am to 5pm; Sunday 1 to 5pm.

More information at: 716-829-3754 and

www.ubartgalleries.org A catalog with an essay by Robert Hirsch is available.

Generous support for the catalog is provided by Mr. Richard Albright, Dr. Gary Brenner, and Anonymous.

Fries, Chiarenza exhibits offer much to ponder
Two exhibits give the mind much to ponder

BY: COLIN DABKOWSKI / NEWS ARTS CRITIC,

Buffalo News




Download full brochure

The Sixties Cubed: Signs, Symbols, and Celebrities






The Weeks Gallery at Jamestown Community College will present an ArtHappening, exhibition, gallery talk, Scharmann Theatre concert, and artists' reception−on September 29, 2012.





The exhibition includes numerous photomontages, a Timeline, Button Women, rotating Mobile, monolithic Peace Sign, and Brion Gysin's flickering, hypnotic Dream Machine. The installations will help baby boomers and fans of the era reconstruct the past through histories, stories, and confessions.









The project will be on view at the

Onondaga Historical Association

, 321 Montgomery Street, Syracuse, NY 13202 from September 22 2012 – January 6 2013. For more information call: 315-428-1864




THE OTHER NEW YORK: 2012 (TONY: 2012)



As part of The Everson Museum of Art's The Other New York: 2012 (TONY: 2012) the Onondaga Historical Association is pleased to announce the exhibition of Robert Hirsch's Manifest Destiny & The American West. The installation consists of about 1000 individual jars, each containing an image with two of the same pictures printed on a black field (similar to a stereocard). The jarred images have been placed in three of the front gallery windows of Onondaga Historical Association, providing a "transparent" viewing experience. This is adjacent to other image jars that displayed on pedestals inside their gallery, which are juxtaposed against a series of 40 x 60-inch prints on the interior gallery walls. This amalgamation of historical and original images offer a complex and variable narrative that explores the relationships between the people, land, and animals of North America's frontier as it unfolded across a blood-streaked stage.

For more information on TONY2012, click here.


Imaging the Shoah: A Post Documentary Approach





Robert Hirsch will present selections from World in a Jar: War & Trauma and a work in progress, Ghosts: French Holocaust Children, at the 42nd Annual Scholars' Conference on the Holocaust and the Churches (ASC). The ASC is oldest interdisciplinary, interfaith, and international gathering on this topic in the United States – meeting in Rochester, N.Y. at Monroe Community College, May 12-14, 2012.

The presentation will be on Monday, May 14th from 10:45 a.m. – 12:15 p.m. in the Forum as part of the Artistic Impressions of the Shoah program.
Details at: http://ascconf.org/
Now Available:



The second edition of Light and Lens: Photography in the Digital Age, expands and updates its groundbreaking predecessor, clearly, and concisely providing introductory instruction and the building blocks necessary to create thought-provoking, digitally-based photographs. It is an adventurous idea book that features numerous classroom-tested exercises from leading photographic educators, and encourages critical exploration and the creation of images from the photographer's eye – an aesthetic point of view.


www.focalpress.com

Images and Words: An Online History of Photography
This feature of Luminous-Lint is a collaborative project between Alan Griffiths and Robert Hirsch. It's
purpose is to provide an authoritative, online history of photography that will evolve and expand over
time with moderated input from the global photographic community.

Visit the project at: http://www.luminous-lint.com/IaW/


The World in a Jar: War & Trauma will be shown at Edinboro University's Bruce Gallery September 1 – 22, 2010.

Robert Hirsch will give a presentation, An Ethical Tale, on Wednesday, September 15th at 7 PM in the Art Department's Doucette Hall.

For more information contact the Bruce Gallery at 814-732-2513 or John Bavaro at jbavaro@edinboro.edu

Robert Hirsch will present The World in a Jar: War & Trauma - Pictures and the Nature of Evil as part of The New York State Summer School of the Arts: Media Arts program on the campus of SUNY, Oswego July 14, 2010 at 7:00 PM.

For details contact Robert Harris, Artistic Director at 781-698-9451 or lagonaboba@rcn.com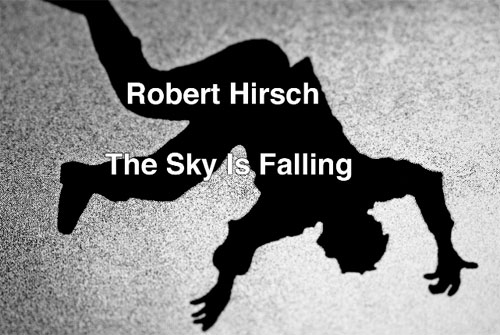 Robert Hirsch's projection piece, The Sky is Falling will be shown in conjunction with Karen Engle reading from her new book, Seeing Ghosts: 9/11 and the Visual Imagination at the Burchfield-Penney Art Center, Thursday, April 8, 2010.

For more information call: 716-878-6011.


The World in a Jar: War & Trauma – Pictures and the Nature of Evil by Robert Hirsch

The PIEA Journal for Photography Education (Photographic Imaging Education Association)
"World in a Jar: War & Trauma" will be on exhibition at the Rockefeller Arts Center, SUNY Fredonia from February 5 - 26.
Artist Presentation on Thursday, February 18th at 8:30 PM
For more information call: 716-673-4897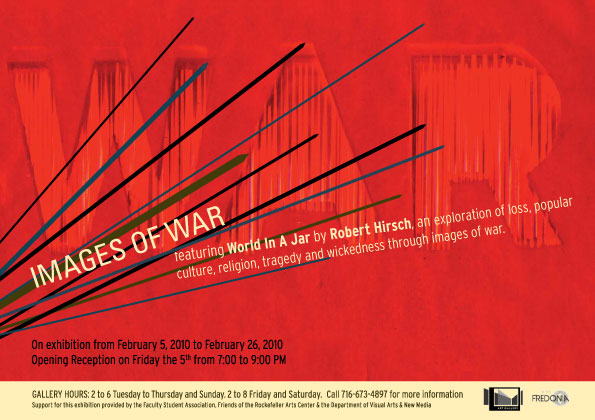 Robert Hirsch's Unseen Terror: The Bomb, Other Bogeymen, and a Culture of Fear can be seen at the NOORDERLICHT INTERNATIONAL PHOTOFESTIVAL'S HUMAN CONDITIONS, on view September 6 – October 4, 2009, Groningen, The Netherlands.

Hirsch's project will be featured in "War Machines" an exhibition curated by Wim Melis that also includes work by Gabriel Jones (US), Shunkichi Kikuchi (Magnum), Simon Norfolk (GB), Simon Roberts (US), Paul Shambroom (US), P.W. Voigt (DE),
and Yosuke Yamahata (Magnum).

In an ambitious and probing photo festival Noorderlicht curator Wim Melis and five guest curators offer their views on themes that define the human condition. Stuart Franklin, Lauren Heinz, Simon Njami, Marc Prüst and Bas Vroege take us with them to conflict areas, and provide their commentary on developments in the vanguard of engaged, narrative documentary photography. On the basis of weaponry Melis underscores the absurdity of war. Six diverse exhibitions, but one powerful thread: the love and the horrors of which man is capable; the struggles that remain hidden from the eyes of the world. Thus Noorderlicht deliberately turns the spotlight on the footnotes of world history, on ordinary people and their circumstances, their will to live and their capacity to destroy."

For details visit:

Unseen Terror: The Bomb, Other Bogeymen, and a Culture of Fear
or
www.noorderlicht.com

Gateway: Selections from the Collection
Nov. 21, 2008 - April 19, 2009


The new Burchfield Penney Art Center at Buffalo State College opened to the public on November 22 with a continuous 31-hour grand opening celebration.

http://www.yournewburchfieldpenney.com

View the Burchfield Penney 360

The exhibition will features contemporary work from the Burchfield Penney's collection, including: sculpture, representational and non-representational painting, photography, drawings, prints, video and mixed media installations. Featured works by Cindy Sherman, Robert Longo, John Pfahl, Russell Drisch, and Robert Hirsch.

The Buffalo State College Dance Ensemble(right) was among several performers Saturday during the 31-hour opening celebration of the Burchfield Penney Art Center in front of Robert Hirsch's World in a Jar installation. The new state-of-the-art facility is located on the Buffalo State College campus.


The city's newest hot spot: An arts center
By Mark Sommer, News Staff Reporter
http://www.buffalonews.com/cityregion/story/502363.html

Shock and Awe
Exhibits large in scope make for an engaging show
BY COLIN DABKOWSKI, News Arts Writer
http://www.buffalonews.com/entertainment/story/527535.html






Robert Hirsch: World in a Jar: War & Trauma

Following an aesthetic strategy of search and discovery, World in a Jar: War & Trauma utilizes the camera as a cultural tool to curate and re-imagine key components from historical and original images to explore the workings of our collective societal memory involving loss, popular culture, religion, tragedy, and the nature of evil over the past four centuries.

Using the Shoah as it point of departure, World in a Jar is a free-form sculptural montage that rethinks the customary linear narrative by offering a supermarket of moveable images. The original installation consisted of 850 individual image jars, each one serving as an interchangeable viewing block, allowing it to be a perpetual work in progress that recreates itself each time it is installed. This permits each photograph to not only present its own split-second historical reference, but also informs the context and interpretation of the surrounding images. There are no captions to anchor the images to particular events, which allows the images to transcend their specific time-based circumstances. Rather, images freely float in an ambiguous and enigmatic space, encouraging viewers to interact and expand meanings based on their own experiences. This engagement is a reminder how photographs continue to seduce us into believing that they are objective records, when in fact all images are not what they initially appear to be and require thoughtful interpretation. This open-ended production, emulating how the puzzles and paradoxes of our own memories are constructed, can convey an endless tale about the human condition that exists outside of chronological time.


SEIZING THE LIGHT: A Social History of Photography, Second Edition

Seizing the Light: A Social History of Photography provides a thought-provoking, accurate, and accessible introduction to the photographic arts for all readers. With stunning images and commentary by hundreds of international artists, the text clearly and concisely provides the building blocks necessary to critically explore photographic history from the photographers' eye, an aesthetic point of view.
World In A Jar: War and Trauma


A World in the Jar: War and Trauma
After opening at Big Orbit Gallery, World in a Jar has recently been exhibited at South East Center of Contemporary Art, University of Northern Iowa, Parsons School of Design, Wichita Falls Art Museum, and Light Work in Syracuse, New York. Hirsch has also been lecturing about the cultural and personal forces that shaped this project.

Manifest Destiny & The American West


Manifest Destiny & The American West

is a stylized three-dimensional image catalog representing the infinite and competing geography that has shaped the American culture and psyche from Coronado to today.

Manifest Destiny & the American West